How Postdoctorates Apply to the Jack Eddy Fellowship
Deadline: January 20, 2023 
There are 6 sections to this page:
The current recruitment period ended on  January 20, 2023. A new recruitment announcement will come out in the fall of 2023.
UCAR postdoctoral positions are generally for two years with the second year based on continued program funding.  Successful applicants in this program work under the mentorship of host scientists in areas of mutual interest.
Partial relocation costs paid per UCAR's relocation policy.
Basic Job Function
To conduct research in the emerging field of Heliophysics (the broad field of Sun-Earth connections).  The program is sponsored by the NASA Living With a Star (LWS) Program.
Duties Include 
Conducts independent or collaborative research under a proposed plan related to the goals of the program.
Documenting the results of the research in scientific publications, and presents these results at seminars and conferences.
Pursuing outside activities that advance professional growth, which may include contributing to educational programs, serving on committees, and attending workshops.
Requirements
Education and Experience:
Ph.D. in related science
Preference is given to those who are seeking their first fellowship and have held a PhD for no more than three years.
Awardees must change institutions, in the absence of compelling circumstances.
Knowledge, Skills and Abilities:
Ability to work independently and conduct research with minimal supervision.
Skill in oral and written communication.
---
How did you find us?
Before you apply, please fill out this very short form.
Thank you!
---
Application Process
There are three steps to the application process:
Prepare your application according to the Application PDF Format Instructions listed below.
Submit the Jack Eddy Postdoctoral Fellowship Applicant List of Referrals Form, which is not open now.  (More details about submitting references are provided below.)
Submit your application online according to the Online Application Instructions listed in the third section below.
Application PDF Format Instructions
Please prepare your application in one (1) PDF document, in the order listed below.
1. Cover Letter
Cover letter stating the name of this program, potential host and location, and where you learned of this opportunity. Please also add a justification statement, if applicable, to explain any breaks in career path.
2. Curriculum Vitae
Curriculum vitae, including publication list.
3. Four Professional References
List of 4 professional references, including names, address and email.
Please fill out the Jack Eddy Postdoctoral Fellowship Applicant List of Referrals Form, which is closed now.  CPAESS will contact your references on your behalf.
It is your responsibility to make sure your references reply by the application deadline. We recommend that you give them a fair amount of time to respond.
Information regarding your references:
One reference must be from your thesis advisor, but not from a potential host mentor.
References from more than one institution are encouraged.
References will have until January 27, 2023 to respond to CPAESS.
Applications without at least four (4) letters are incomplete and may not be reviewed by the Steering Committee
Please let references know they will be receiving an email from Jack Eddy Postdoctoral Fellowship Form - CPAESS (cpaess-webmaster@ucar.edu). If they do NOT receive an email, they should contact cpaess-webmaster@ucar.edu. They will then receive a form from CPAESS to submit their reference information.
You will be responsible for ensuring that your reference has completed the Reference form by the CPAESS application deadline.
4. PhD dissertation abstract
PhD dissertation abstract, including title
5. Titled project description
Note: Description must be titled and not exceed five pages including figures and appendices (minimum 12 pt. type size).
References are NOT included in this 5-page limit.
Proposals must describe an actual research project.
Applicant is encouraged to seek help from potential mentor(s) in writing the project description.
6. Statement of relevance
Statement describing the relevance of the proposed project to the NASA Living with a Star program, not to exceed one page.
7. Host Institution Materials (Host material should be provided to applicant before application deadline and submitted as part of the postdoctoral fellowship application. Please see How Hosting Institutions Apply for more information)
Letter of Intent
Curriculum vitae
Mentoring Plan
8. Inclusion Response Statement (one-page limit)
UCAR and CPAESS embrace a work environment that is inclusive, diverse, and equitable. Our employees come from diverse backgrounds, and we strive to create the kind of inclusive, supportive, and welcoming workplace that will attract and retain an even greater diversity of individuals in the future. As part of the commitment, we require an "Inclusion Response Statement" from applicants that addresses the role of inclusion, diversity, and equity in the Science, Technology, Engineering and Math (STEM) fields. The "Inclusion Response Statement" must address past efforts, as well as future vision and plans to advocate for and advance diversity, equity and inclusion in the organization and/or field of work. A demonstrated record of past effort will be given greater weight than stating future plans. The steering/selection committee will take into consideration the experience level of the applicant when reviewing these statements.
---
Online Application Instructions
You must apply online at the UCAR Career Opportunities Page, which will open in the fall of 2023.
Step 1. 
To begin the application process select the "Apply" button. When prompted create a new account. If you have applied to a different position within UCAR after September 16, 2019 please sign in to your existing account.
Step 2. 
You will then be prompted to submit your current resume as seen below.  At this point, upload your complete application as one (1) PDF document and select "Next".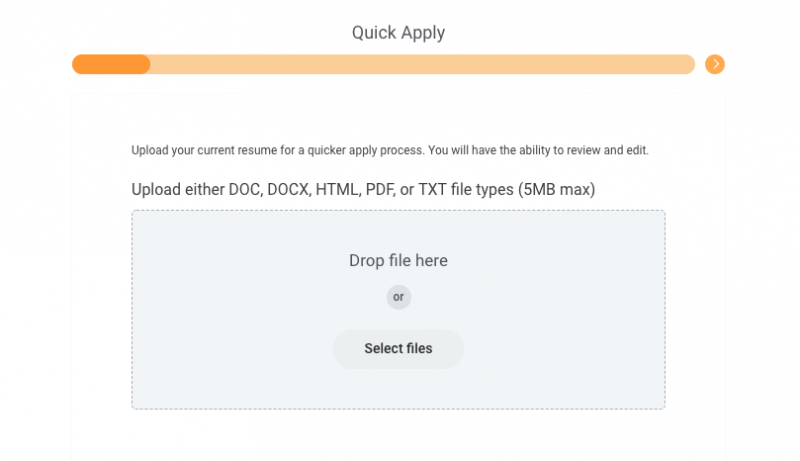 Step 3. 
Add any missing information and/or edit and verify any information that had auto filled on the My Information and My Experience pages.
You may receive the following Alert:



Please note your application has been received. The software was not able to use the information provided in your application to autofill the My Information and My Experience pages. Please proceed by adding any required missing information.
Step 4.
Continue the application process as prompted.
---
Questions
Questions on the Workday application process may be addressed to HR Recruiting at hrrecruiting@ucar.edu. General questions regarding this fellowship program may be addressed to Kate Rodd or Cindy Bruyère.
U.S. citizenship is not required to participate in this program, but the selected postdoctoral fellows must be hosted at a U.S. research institution. Jack Eddy fellows are UCAR employees and receive a fixed annual salary plus UCAR's benefits (health and dental insurance, paid time off, paid holidays, TIAA retirement fund, and life insurance). A relocation allowance and an allowance for travel during the appointment are provided. See Stipend & Benefits for details.
NASA Living With a Star, Heliophysics Division sponsors this program.
UCAR is an EE/AAE who values and encourages diversity in the workplace.