Boulder, Colorado is located 35 miles northwest of Denver at the foot of the Rocky Mountains. The Flatirons, a series of spectacular rock faces that attract climbers from around the world, form a dramatic backdrop for this city of 105,000. Boulder is home to the National Center for Atmospheric Research. The University of Colorado's main campus is also located here, greatly enriching the cultural and intellectual life of the entire community.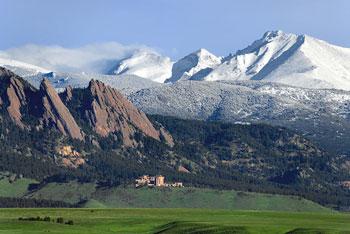 The photo to the right was taken near the wind-farm in Superior (with a very long lens) and due to that very South direction, Mt. Meeker appears behind the Flatirons.
A series of forward thinking measures taken by the City government beginning in the 1960s, has endowed Boulder with an extensive network of parks and open space, interlaced with miles of pedestrian-bicycle trails. The downtown commercial district is anchored by a four-block long pedestrian mall along Pearl Street, featuring beautiful landscaping, outdoor seating and play areas, and public art along with diverse restaurants, galleries, and shops. Street performers frequently provide informal entertainment. During the warm months, Pearl Street Mall remains lively long into the evening.
The Twenty-Ninth Street Mall, also offers a wide range of shopping and dining, and is located a short walk from the Millennium Hotel.
Helpful information for visitors to Boulder may be found at The City of Boulder website. The site features a calendar that can guide you to diverse events taking place in and around the City.